by Bianca Dowling
Mothers day is your turn to enjoy a day of fun, relaxation and being spoilt and it is a chance to spend time with the ones you love! You can use these ideas to surprise your own mum, or send this to your kids or partner for some inspo!
Out and About
1. Family picnic:
Grab your scooters or bikes, pack a yummy picnic and enjoy the sunshine at some of our favourite local parks or bushwalking spots:
2. A Fun Run:
The Mother's Day Classic is an opportunity to do something active and fun on Mother's Day, while paying tribute to those who have been affected by breast cancer and raising money for breast cancer research. Gather your family and friends to run (or walk) with you and grab some lunch afterwards!
Where: The Domain or Parramatta Park
When: 14th May 2017
3. Poke Around Some Markets
Where: Parkway Hotel, 5 Frenchs Forest Road East, Frenchs Forest
When: 14/05/2017 @ 8:00 am – 1:00 pm
Where: Playfair Street, George Street, Jack Mundey Place
When: 10am – 5pm Sunday
Marrickville Organic Food Market
Where: 142 Addison Rd Marrickville
When: Every Sunday 9-3
Where: Chatswood Mall, Victoria Avenue, Chatswood
When: Saturday, 6 May 2017 – 10:00 am – 4:00 pm
Other markets usually on a Sunday:
Blacktown Market
Bondi Market
Foragers Market
Rozelle Collectors Market
Sydney Fish Market
4. Schedule a Day Trip or a Weekend Getaway
Organise a day at a spa, a coastal getaway, camping or visiting the city by train or ferry
5. Relax Indoors with a Special Lunch or Dinner
Where: 83 Charles Street, Putney
When: 14/05/2017, Lunch 12 – 3pm, Dinner 5pm – 9pm
Cost: 2 course set menu for $45 per person, 3 course set menu for $55 per person & $20 for children (3-12 years).
Where: 108 Herring Rd, Marsfield
When: 14th May 2017 from 12pm – 3pm
Cost: Adults $59, Children $20 (under 12 free)
Where: Brays Bay Reserve, 443 Concord Rd, Rhodes
When: 14th May 2017 from 12pm – 3pm
Cost: 3 course choice menu for $95 per person & $45.00 for children (3-12 years)
Where: 45-47 Rawson St, Epping
When: 14th May 2017 – Breakfast – 8am–11am, Lunch – From 12pm
Cost: Breakfast – Members $29.90 | Non Members $35 | Children $20, Lunch – Members $65 | Non Members $72 | Children $29
Where: 307 Lane Cove Road (cnr Fontenoy Road), Macquarie Park
When: 14th May 2017
Cost: Full Buffet Breakfast – $39 adult, $16 children or 3-Course Lunch – $65 adult, $18 children (2-course kids meal and activity pack)
Where: End of Clarke Road, Woolwich Dock
When: 14th May 2017
Cost: $90 per adult – 3 course semi a la carte menu, $35 per child – includes main & dessert & activity pack
Where: Centennial Homestead, off Grand Drive, Centennial Park
When: 14th May 2017
Cost: Breakfast Adults $60, children $30 or Lunch Adults $100, children $45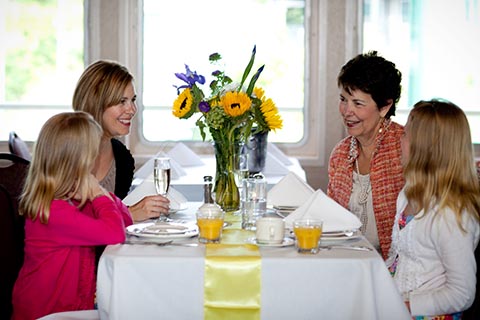 Have a home day
If the weather doesn't agree on the day, involve the whole family with some fun games or Mother's Day craft! Start with breakfast in bed (potentially cold toast and coffee, but it's the thought that counts, right?) and enjoy some activities perfect for a relaxing day indoors.
Wishing you a wonderful and happy Mother's Day!