Rhodes Foreshore Park underwent an upgrade in 2018 and has come out the other side very sparkly indeed. It ticks many of the boxes that are important to RDMs so we think you're going to love it.
Set on the Parramatta River looking over to Wentworth point, this medium-sized playground has a lot to love about it:
it's fenced
the ground is astroturf (no bark in sight!)
it's shaded although it could do with another shade cloth
there are a few options for coffee and lunch close by including Bare Witness and Left of Field
confident kiddies will enjoy scootering along the river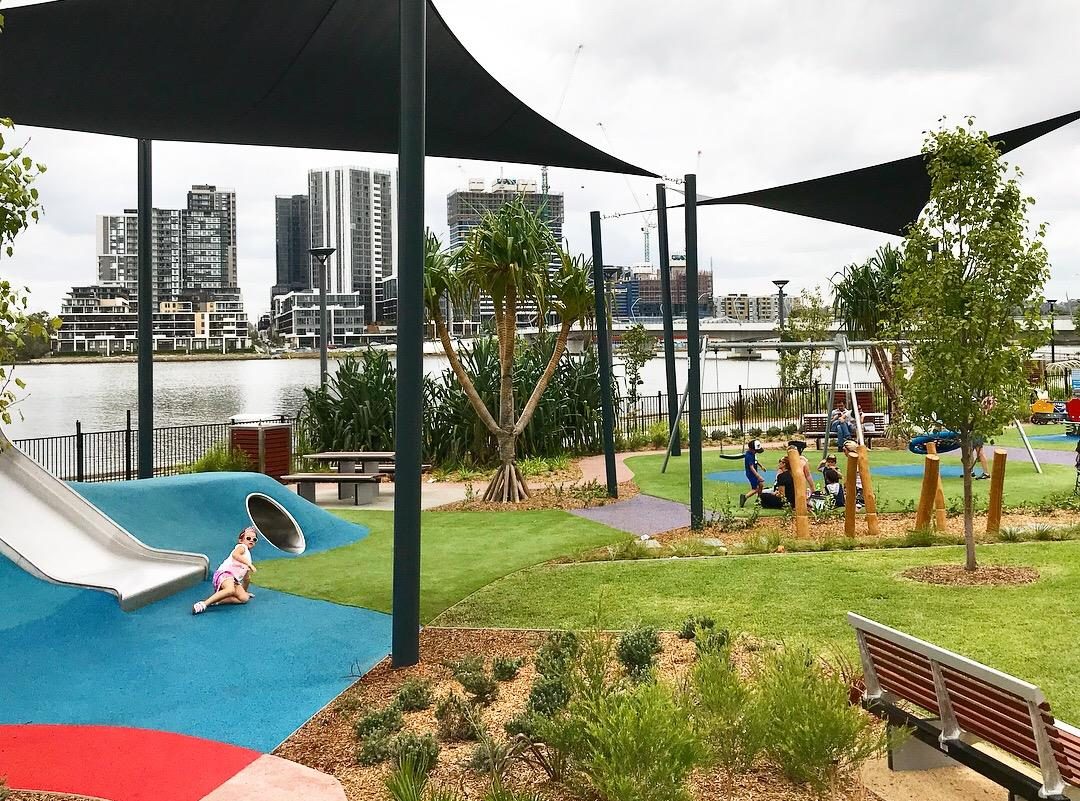 In terms of equipment, there is:
a wide slide for up to 3 children sitting side-by-side
3 swings including a baby swing and bucket swing
a vortex (spinning disc)
a 6 seater seesaw
balancing beams
As for facilities, there are toilets nearby (a baby change too) at The Connection, which is a short walk away. The playground has a number of bench seats and one picnic table and there is also a filtered water refill station.
A little further along, near the toilets, you'll find a small water play area with jets shooting water streams into the air. The kids will not be able to resist! On the other side of the playground is a long stretch of grass perfect for picnics but maybe not soccer because balls could easily be kicked into the river.
Getting There
Rhodes Foreshore Park is situated on Shoreline Drive near The Connection. Parking is along Shoreline Drive.
RDM Rating
Age range: 1 – 6
Coffee close by: 1
Shade sail: 1
Bike/scooter track: 1
Noteworthy feature/s: 1 – Water play area!
Can host a party (BBQ, tables, toilets): 0
Gated / safe: 1
TOTAL: 5/ 6
Check out more park spotlights here!